CBA Series
Compact high pressure dust collector
A high pressure model that sucks up adhering fine dust like a vacuum cleaner.
Suitable for clean rooms. This is suitable for removing adhering dust with a small diameter tube or slit nozzle.
High pressure
AT3 panel
ROHS compliant as standard
where a delivery date is specified, we can deliver a model that is compatible with CE standards.
For Installation inside inside clean room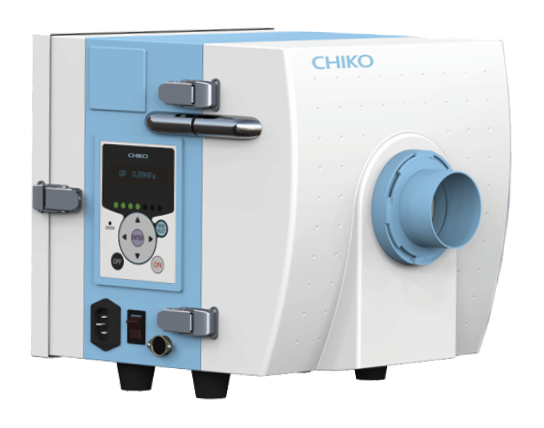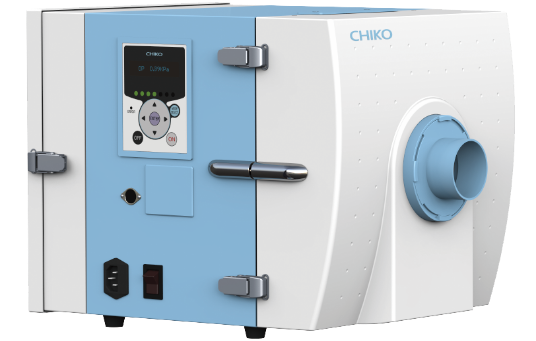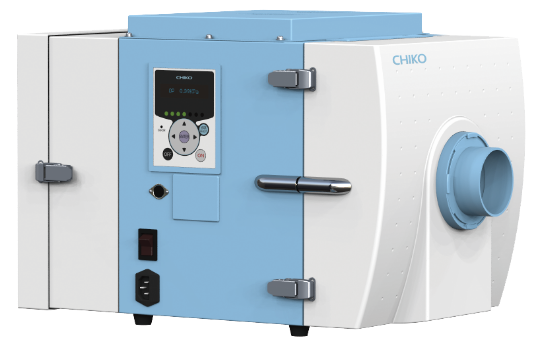 Features
24 hours continuous operation possible Compact, high-performance
By using a brushless motor, we have created a product with a high suction static pressure (maximum 13.5 kPa).This is suitable for sucking in adhering dust using a fine tube or slit nozzle take advantage of high suction pressure.Operating efficiency is the same at 50Hz or 60Hz. The product's compact design ensures that this product meets the latest miniaturization requirements and demands of our customers. This is the product that most embodies our concept of "compact high performance"
Ethernet / RS-485
Option feature
All functions that can be operated on the AT3 panel can be operated by a PC with Ethernet or RS-485 communication.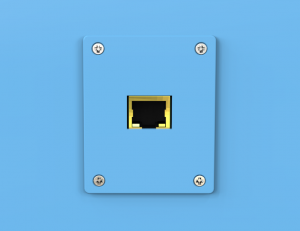 Remote control
Remote cable
(sold separately/model: Using MT-173-8 (3 m) enables remote operation of peripheral equipment.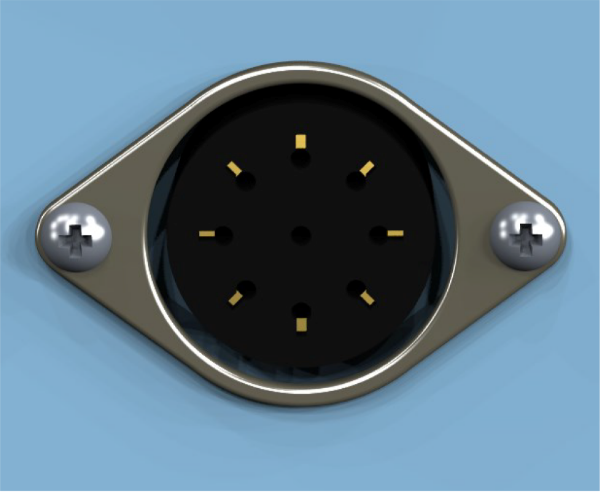 Motor cable receiving port on main body
1.Operation input signal
2.Operation pressure signal (DC1-5V)
3.Filter clogging signal
4.Remote-control operation switching input signal
5.Operating signal
6.Abnormality signal
7.Change of operating level input signal (DC0-5V)
8.Gnd
Change capacity level (air volume)
List of application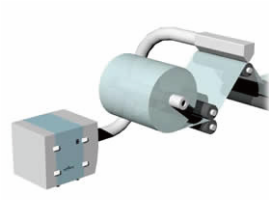 Static elimination; removal
of dirt and dust from film surface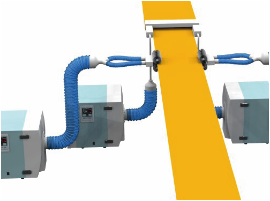 Removal of dust from film cross-section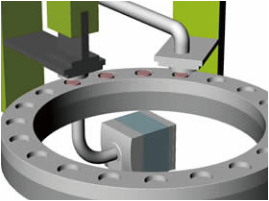 Cleaning dust powder created when compression molding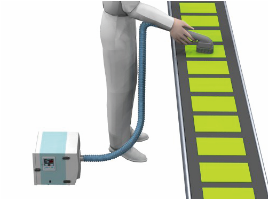 Removal of dust with brush cleaner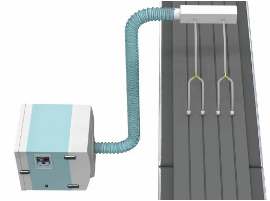 Removal of dust with thin tube
Dimensions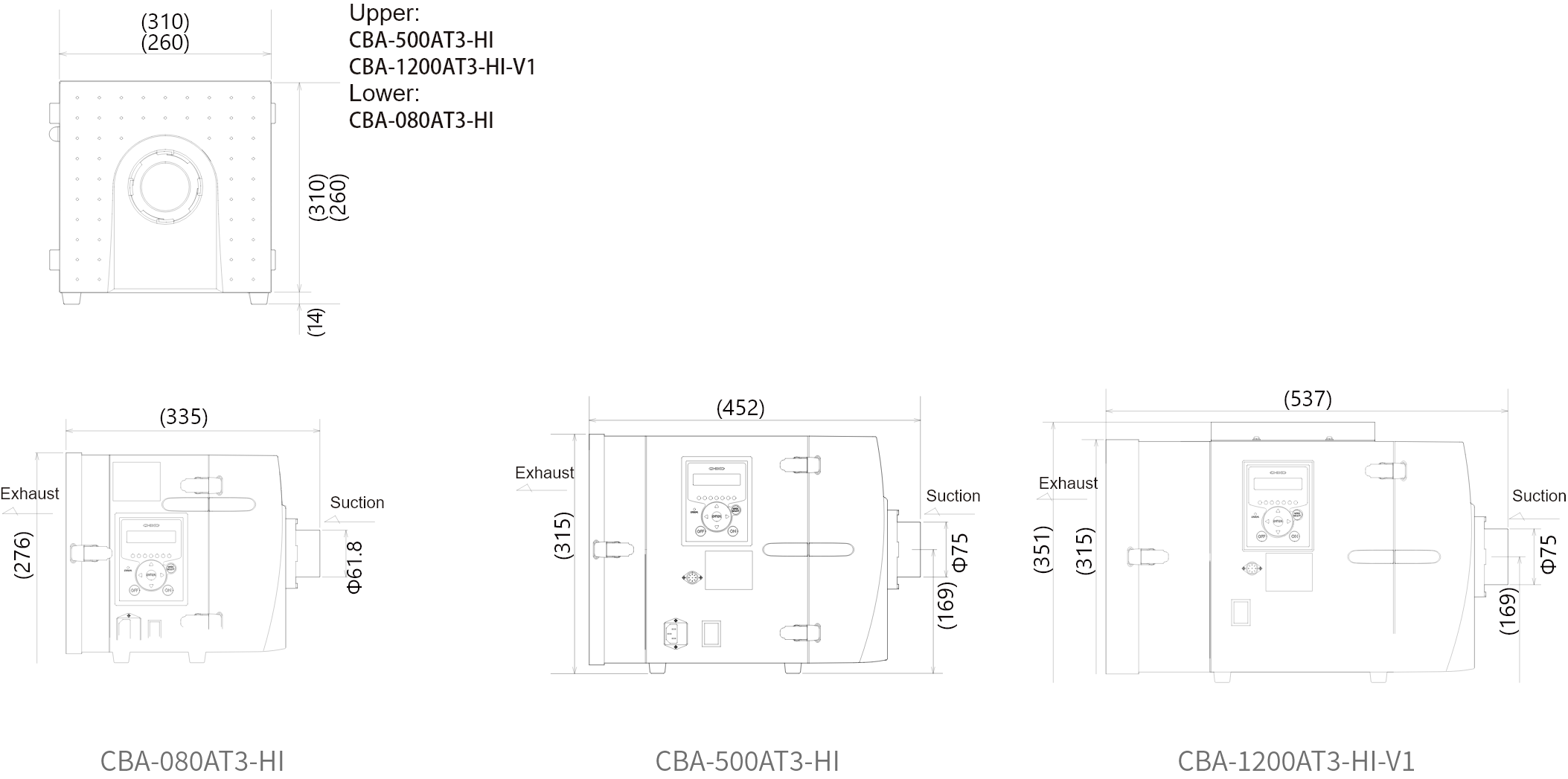 Product structure and features
1. Primary filter
Filter bag is made of five layers of nonwoven polypropylene fabric. The five layers have different air permeation rates to minimize clogging and provide a filtration rate of 95% or higher for particulates of 45μ and larger.
The five layer filter also offers high overall strength;thus, it does not tear easily unlike a paper pack.

2. Secondary filter
Nonwoven polypropylene fabric is formed into a pleated filter.The outside frame is molded in ABS resin
(CBA-500AT3-HI and CBA-1200AT3-HI-V1 are polypropylene). Highly effective with a filtration rate of 99% or higher for particulates
of 0.3 μ.
3. Exhaust filter
This uses the same filter as the secondary filter, and collects particles that were not extracted by the primary and secondary filters. Also, it is installed for the purpose of collecting dust particles generated in the fan motor chamber.
The filter has a filtration rate of 99% or higher for particulates of 0.3 μ, thus enabling the use of the dust collector for applications requiring cleanliness class of 100,000 to 10,000*.(Based on factory inspection data). It can be used inside a clean class 1000 clean room if HEPA filter is installed.
For CKU / CBA series, you can easily change to V1 specification by replacing the filter (CBA-500AT3-HI requires replacement of exhaust cover replacement).
For CBA-1200AT3-HI-V1 a HEPA filter is attached as a standard specification.
Filter Type
Model
Primary filter
Secondary filter
Exhaust filter
Filter for
motor cooling
CBA-080AT3-HI
FB-25
CHF-2525-50
CHF-2525-50
–
CBA-500AT3-HI
FB-30
CHF-3030-50
CHF-3030-50
–
CBA-1200AT3-HI-V1
FB-30
CHF-3030-50
HEP-3030-69
HEP-1293-33
Easily Detachable Flange Type (sold separately)
| Model | φ38 | φ50 | φ65 | φ75 |
| --- | --- | --- | --- | --- |
| CBA-080AT3-HI | FRJ-D-38-35-92 | FRJ-D-50-35-92 | Standard | – |
| CBA-500AT3-HI | FRJ-D-38-35-108 | FRJ-D-50-35-108 | FRJ-D-65-35-108 | Standard |
| CBA-1200AT3-HI-V1 | FRJ-D-38-35-108 | FRJ-D-50-35-108 | FRJ-D-65-35-108 | Standard |
Note:Contents may change without notice.
List Of Specifications
| Model | Output | Voltage | Frequency | Rated current |
| --- | --- | --- | --- | --- |
| CBA-080AT3-HI | 450W | 100V (single phase) | 50/60Hz | 6.9A |
| CBA-500AT3-HI | 500W | 100V (single phase) | 50/60Hz | 7.9A |
| CBA-1200AT3-HI-V1 | 1200W | 200V (single phase) | 50/60Hz | 9.5A |
Maximum
air flow
Maximum
static pressure
Noise level

*1

Suction port
(hose) size
Suction port sold separately
(size can be changed)
2.2㎥/min
9.1kPa
57-70dB
φ65
φ50 ・φ38
4.2㎥/min
9.5kPa
61-69dB
φ75
φ65 ・φ50 ・φ38
5.5㎥/min
13.5kPa
60-77dB
φ75
φ65 ・φ50 ・φ38
Model
To be used
with 200-240V

*2

CE compliant
Panel
Power cable
CBA-080AT3-HI
AT3
3m
CBA-500AT3-HI
AT3
3m
CBA-1200AT3-HI-V1
Standard
AT3
3m
Remote control
feature
Suitable for use
in clean rooms
Primary filter
capacity
Mass
Main body dimensions
(D×W×H)
2.5L
10.0kg
335×290×276mm
4.5L
17.4kg
452×340×328mm
4.5L
26.7kg
537×340×351mm
*1 Measurements obtained in Scale A (dBA) from a randomly selected position at a distance of 1m using a unit with a hose connected to its suction port.
*2 Depending on the voltage used, product capability may differ slightly from the 100V product.
Note:Contents may change without notice.