SKV Series
High-performance dust collector
A high performance dust collector that can be used for general environments.  The filter can easily be replaced by opening the skeleton panel at the top.  The primary filter is a bag type, so can easily be replaced without getting your hands dirty.  In addition, the secondary filter incorporates a cylindrical filter for improved air flow efficiency.  This ensures that the dust collector is very powerful despite its compact size.
Air blower type
AT panel
ROHS compliant as standard
For general environments
where a delivery date is specified, we can deliver a model that is compatible with CE standards.
For Installation inside a clean room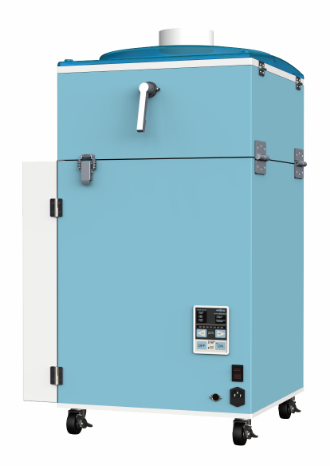 Features
The primary and secondary filter chambers are totally separate from each other, and can be easily inspected.
A "dust removal handle" is installed in the primary filter chamber to rectify clogging. By moving the handlebar left and right, you can remove dust adhering to the primary filter and rectify clogging.
Remote control
Remote cable
(sold separately/model: Using MT-173-8 (3 m) enables remote operation of peripheral equipment.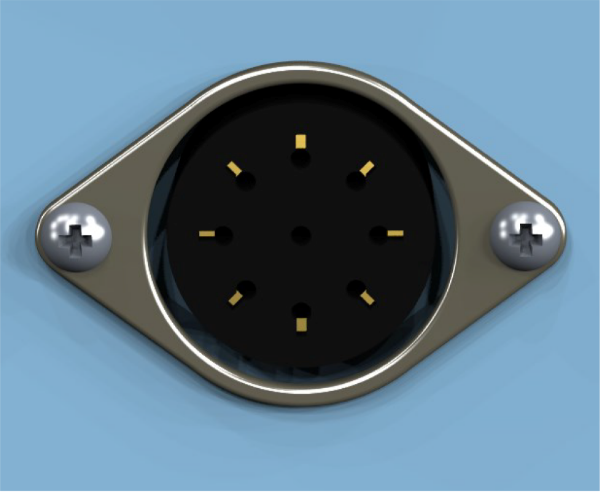 Motor cable receiving port on main body
1.Operation input signal
2.Operation pressure signal (DC1-5V)
3.Filter clogging signal
4.Remote-control operation switching input signal
5.Operating signal
6.Abnormality signal
7.DC 12V (MAX 100mA)
8.Gnd
Change capacity level (air volume)
List of application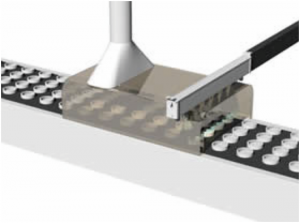 Static elimination; removal of dust adhering to cosmetic bottle lid or compact surface with air blower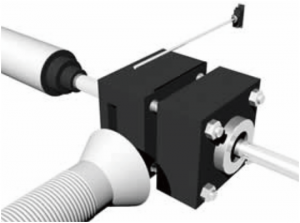 Removal of dust from forming mold with air blower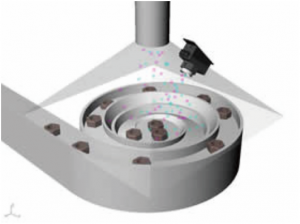 Static elimination; removal of dust and from parts feeder
Static elimination; removal of dust and dirt on pachinko machine surface
Dimensions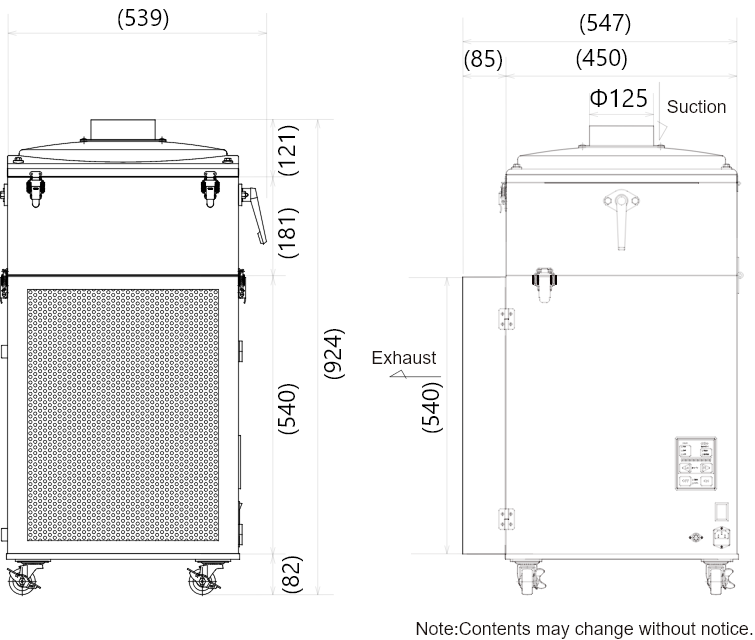 SKV-900AT-PM-HC-V1
Product structure and features
1. Primary filter
Filter bag is made of five layers of nonwoven polypropylene fabric.
The five layers have different air permeation rates to minimize clogging and provide a filtration rate of 95% or higher for particulates of 45μ and larger. The five layer filter also offers high overall strength;thus, it does not tear easily unlike a paper pack. The clear window provided on the filter shows the amount of collected dust even during operation.
2. Secondary filter
Polyester molding filter installed. The outer frame of the filter is made of ABS resin and is designed to ensure easy maintenance.
Filtration efficiency is over 99% for 10μ particulates.
3. Exhaust filter
The HEPA filter provided as standard equipment offers a filtration is over 99.97% for particulates of 0.3μ. Complies with clean class 1,000-100.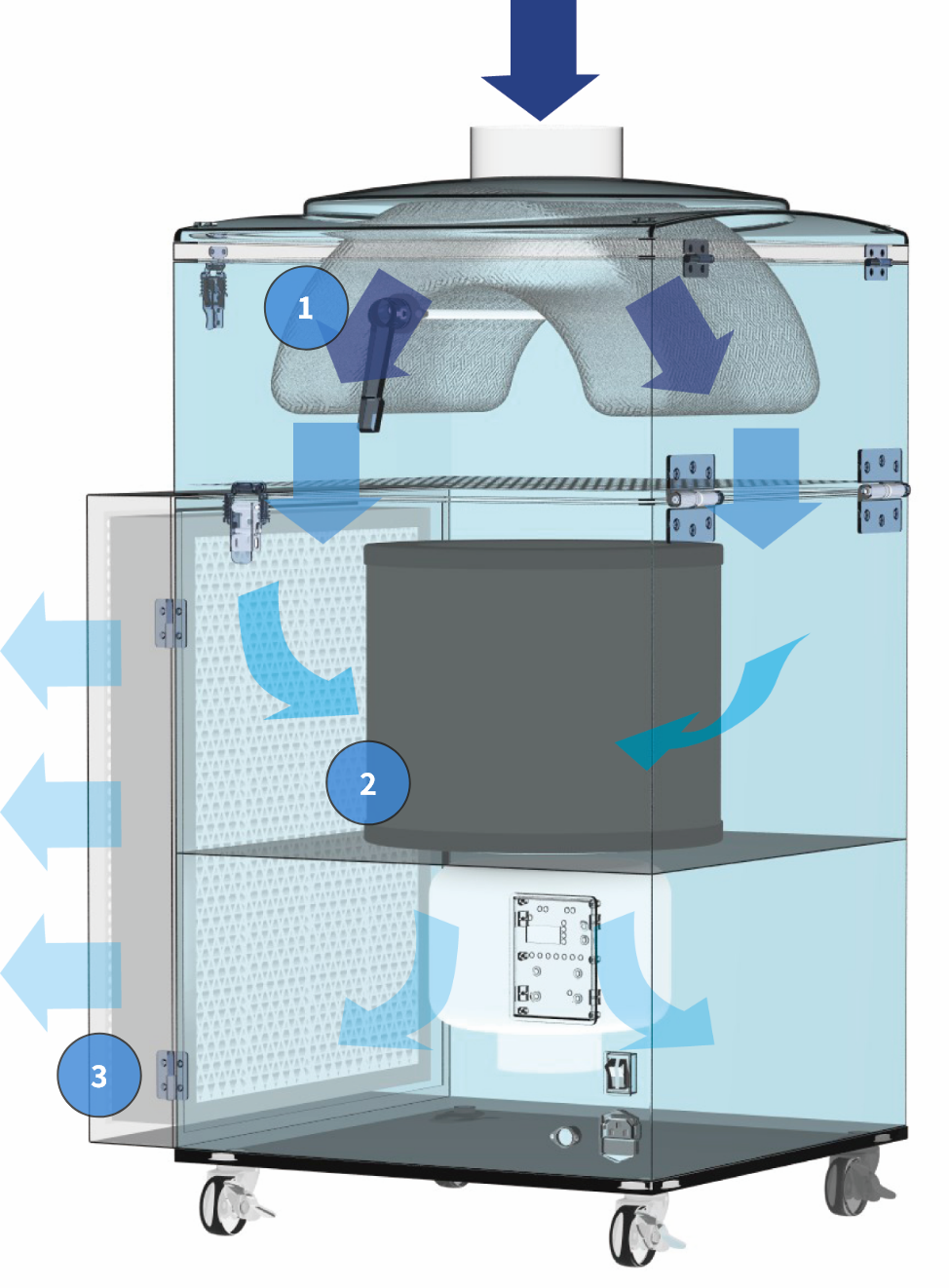 SKV-900AT-PM-HC-V1
For clean rooms
(Complies with clean class 1,000 to 100)
Filter Type
| Model | Primary filter | Secondary filter | Exhaust filter |
| --- | --- | --- | --- |
| SKV-900AT-PM-HC-V1 | FB-900-33-125 | CS-300-250 | HEP-5040-80 |
List Of Specifications
| Model | Output | Voltage | Frequency | Rated current |
| --- | --- | --- | --- | --- |
| SKV-900AT-PM-HC-V1 | 1000W | 200V (single phase) | 50/60Hz | 9.8A |
Maximum
air flow
Maximum
static pressure
Noise level

*1

Suction port
(hose) size
15.0㎥/min
3.2kPa
60-71dB
φ125
Model
To be used
with 200-240V
CE compliant
Panel
Power cable
SKV-900AT-PM-HC-V1
Standard
AT
3m
Remote control
feature
Suitable for use
in clean rooms
Primary filter
capacity
Mass
Main body dimensions
(D×W×H)
20.0L
56.0kg
547×519×925mm
*1 Measurements obtained in Scale A (dBA) from a randomly selected position at a distance of 1m using a unit with a hose connected to its suction port.
Note:Contents may change without notice.